Almost three years have passed along since we started testing our tiny wifi/bt sensors. Over time, dozens of installations have been completed, in several countries, such as Switzerland, Malaysia, Singapore, Hongkong and Thailand.
Today, we'd like to review where we stand with GeoCTRL footfall tracking. In its current state, our technology has proven to be stable and to provide reliable data. And fully GDPR-compliant on top.
The project came into existence on client request. A first MVP was proudly counting unique store visitors. So clients started to want more.
As online businesses use tools like Google analytics to track their audience and comprehend them better, physical businesses are starting to realize the potential of leveraging technology for the real world thanks to the Internet of things.
Our GeoCTRL Footfall Sensors can detect devices based on their bluetooth or Wi-Fi signal. Unlike most solutions, ours is autonomous and works simply on power; the data is transmitted via 3G & 4G.
Most people would agree that the "gold standard" in footfall Wi-Fi tracking has been Cisco Meraki. However, we do see that we typically capture more unique devices; our main advantage lies in shorter scanning intervals. That means we capture the quick passers-by as well as those who are visible for a longer period of time. As you can see in the graph below, the speed of capture leads to a bigger advantage the more "traffic" you have. On high-frequency locations (i.e. 100k devices per day) we see up to 10x more devices.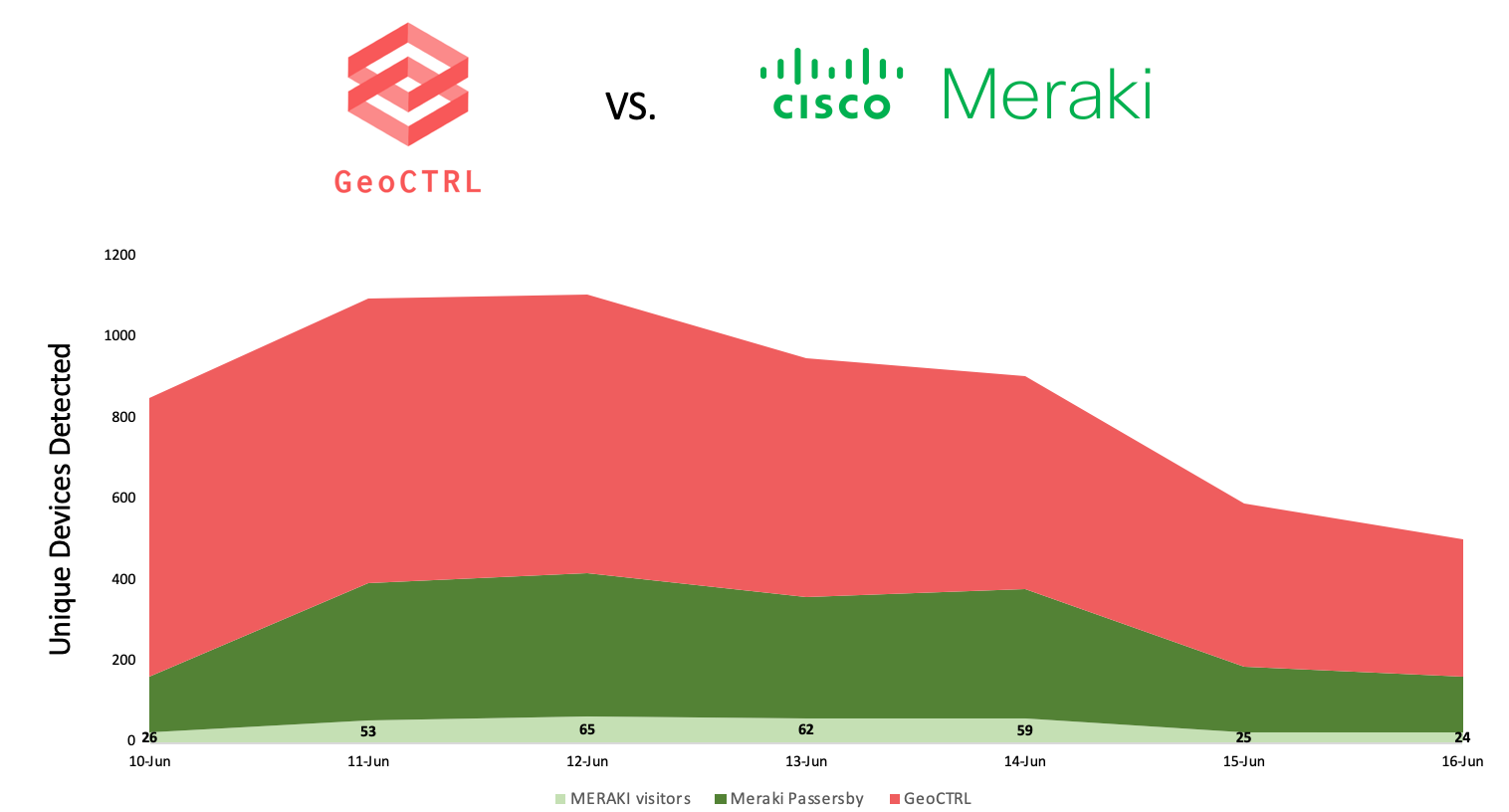 Data Recorded at our Headquarters
What do our clients need this tracking solution for?
Well, the same reasons they would use Cisco Meraki for: to accurately count the footfall on location.
Other data insights are generated by looking at signal strength and dwell times. What additional benefit that brings, well, that's for a next blog post.